The Saloon Hours: Sunday - Thursday (12pm - 10pm) | Friday - Saturday (12pm - 12am)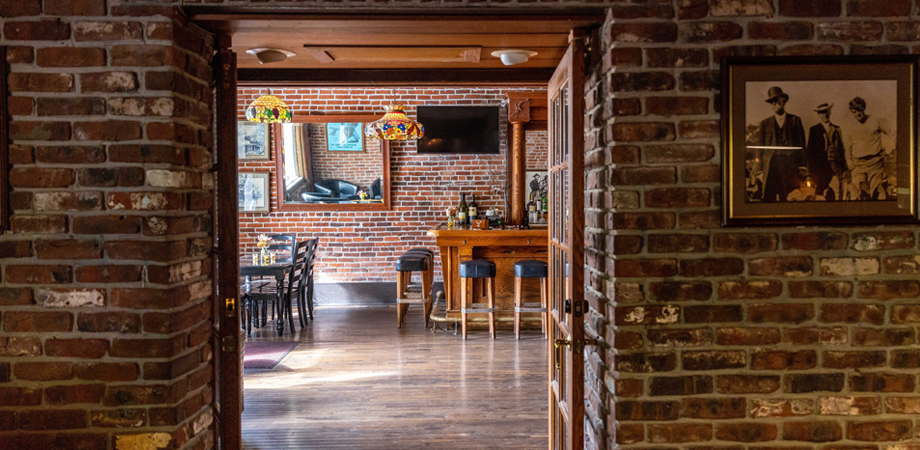 The Saloon at The Jack London Lodge
Experience quintessential Glen Ellen like the locals do. Steeped in turn of the century history and charm, The Jack London Saloon offers comfortable seating, sofas, and an antique polished oak bar. Catch a game on the big screen TV, get together with friends, enjoy a game of pool, or stop in for a late-night glass of wine or cold beer. Unwind on our Creekside Patio after a day of wine tasting and savor the serene setting beside the Sonoma Creek. Experience a vintage landmark among Sonoma Wine Country restaurants.
The Saloon features wine country comfort food and the best burger in Sonoma. A true locals' hangout, the bar wine list highlights an incredible variety of Wine Country vintages, craft beers, and cocktails.
Call to order. 707-996-3100
Rustic, Warm, and Unpretentious
The Saloon's atmosphere is true to its namesake's concept of what a good saloon should be: a place to kick back and enjoy friendly fellowship. The bar is a lively mix of travelers and local characters, including winery owners and winemakers who love to tell stories. Travel through Glen Ellen's historic past and the life of Jack London while taking in the captivating photographs and memorabilia that line the walls. Relax with us after a day of wine tasting with a unique selection of craft beers and cocktails at the Saloon.
Creekside Serenity
Enjoy outdoor dining and private events on the Creekside Patio, shaded by mature trees and overlooking Sonoma Creek that meanders through the Valley. Relax in the glow of the late afternoon sun or under the Valley moonlight. The flower garden and stone fountain create a tranquil backdrop for private dining, special events, and wedding receptions.
Book your next event, birthday party, or wedding reception with us on our Creekside Patio.